11th Annual Great American Song Contest
GASC HONORARY FINALISTS / 2009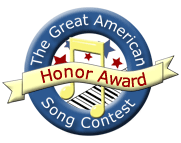 The number of selected songs from the 11th Annual Great American Song Contest was greater than any prior year, according to GASC Judges who reviewed over 1500 entries. Great songs were found in all categories of the 2009 contest.
The increased number of exceptional songs made the task of choosing the winners enjoyable — but very challenging.
Below is the official list of GASC 2009 Finalists. All scored near the top of their respective categories.
(The number of category Finalists is proportionate to the number of entries received in the nine categories.)
<>
<>
POP/ADULT CONTEMPORARY
"Forget You" Anna Beljin (Cincinnati OH)
"Ain't No Cinderella" Sven Tydeman-Katrina Risteska-Michael Szumwoski (Pyrmont AUSTRALIA)
"Smile" Keegan Smith (Portland OR) website


"2 Left Feet" Vicky J Jones (Essex UK)
"fyu" Marie-Juliette Bird (London CO)
"We're Smokin' Hot" Hilary Weaver & Mark Zubek (Toronto CANADA)
"What's the Matter Boy" Wayne Westervelt (Franklin Lakes NJ) website



"Another Man's Treasure" Jen Mize (Glass House Mountains AUSTRALIA)
"I Want My Virginity Back" Ott Lukk (Minneapolis MN) website


"Ever" Thia Sexton (Los Angeles CA) website


"Oh Say Can You See" Judy K. Vogelsang (Eugene OR)
"Mirror Freak" Peter Farrell (Glasgow Scotland)
"Let Me Out" Jamie Hartman & Rosi Golan (London UK)
"Mr. Moon" Al Hammerman (St. Louis MO)
"Arithmetic" Scott Lehman (Forest Park IL) video


"Believer" Maks Gabriel (Nashville TN)
"Hot Girl" Murray Wilde (Penticton BC Canada) website


"Lonely London Town" Andy Johnson (London UK)
Just A Little Bit - John Tomaino (Carlton Victoria Australia)
"Let the Years All Shine" Dean Landew (New York NY) website


"Blind" Rhys Rees (Rozelle NSW AUSTRALIA)
"I've Always Wanted To Be a Rock Star" Danny Hoffmann (Red Wing MN)
"One More Moment" Johnny Rodgers & Lina Koutrakos (NYC) website

CONTEMPORARY ACOUSTIC/FOLK
"Black Mountain" Geoff Oelsner (Fayetteville AR)
"Juni Rea" Johnsmith (Trempealeau WI)
"I Googled You" Marc Bridge (Westborough MA) website


"America, It's You" John Nicholas (East Falmouth MA) website


"Black Ice" Kelly O'Malley (Boston MA)
"Worst Kept Secret" Mark Stepakoff (Boston MA)
"One More Day Above Ground" Rob Heath (Edmonton AB Canada)
"Another Wasted Rose" Sharif El-Mahdi (North Hollywood CA) website


"Wasteland" Jeff Krantz (New York NY)
"Mystery" Michael Logen (Nashville TN)
"That's What I Do " Barry Crannell (Portland OR)
"A Thousand Novels" Paper Thick Walls (Chicago IL)
"Exactly What To Say" Lorina & Hannah Harding (Geraldine NZ)
"Paul's Song" Robyn Landis & Larry Murante (Vashon WA)
"Curtains" Kevin Higgins (Austin TX)
"Break the Silence" Dimple (Phnom Penh CAMBODIA) website


"Nobody Left To Blame" Patrick Nagel (Ukiah CA)
"The Ghost" Jeff Krantz (New York NY)
"Gateway To My Heaven" Truman & Willie Morrison (Washington DC)
"Mystery" Lori Diamond (Northboro MA)
"Wishful Heart" Justin B. Fawsitt (Oakland CA)
"Apple River" J.B. Pariah (Chicago IL)
"Before the Morning Sun" Dave Gunning & James Keelaghan (Pictou NS CANADA)

COUNTRY
"Angels On the Sidelines" Lynn Case & Russ Case (Choiceland SK Canada)
"Real Good Night" Adrienne Leopold (Toronto CANADA) website


"She Makes the Rain Shine" Michael McGee & Jeff Moxce (Lock Haven PA)
"We Don't Live Here Anymore" Carol Frank (Arcadia OK)
"Kiss My Doublewide" Rolf Schnyder & Michael 'Max' McGee (Grimisuat SWITZERLAND)
"You and Me Here" Lynn Case & Russ Case (Choiceland SK Canada)
"Heart On My Windshield" Aaron Brown (Los Angeles CA)
"Albuquerque" Robert Ralph Carlson (Los Angeles CA) website


"Bitterweeds" Barbara Wilkinson & Sonya Wood (Vicksburg MS)
"Hearing Things" Vincent Robert Trocchia (Avdou GREECE)
"You Make My Life Shine" Frank Tedesco & Allen Estes (Gloucester MA)
"I Didn't Ask To Be Born" Martin Lasserre (Tracy CA)
"Frequent Liar Miles" Steve Craig, Bill Flowerree website


& Sharon Stebbins (Kingston Springs TN)
"People Like Us" John Nicholas (East Falmouth MA) website


"I've Been There A Time or Two" Michael Smythe & James Ducke (Las Vegas NV)
"I'll Think of You" Lynn Case & Russ Case (Choiceland SK Canada)
"That Kind Of Love" CJ Solar (Baton Rouge LA)
"Bourbon Renewal" Stephen Spatz (Philadelphia PA) website


"Won't Think About Goodbye" Lynn Case & Russ Case (Choiceland SK Canada)
"Tiny Little Ball" Martin Lasserre (Tracy CA)
"Storyteller" Sarah Bella (Auburn Hills MI) website


"Old Weathered Barn" Rudy Spivey (Florence SC)
"The Hooky" Gary Ray Poe Jr. (Mead WA)
"It's A Beautiful Day" Inglath Cooper & Gabe Stalnaker (Rocky Mount VA)
"Would You Say I Do Again" Don Quinn (Purvis MS)
"Won't Let Go" Sonia Rutstein (Baltimore MD)
"Country Music Spoken Here" Martin Gibson (Glen Cove ME)
"Who Says It Ain't Country" Craig Kaemmer (Brandon FL)
"Seal Away My Heart" Martin Urquhart (Severna Park MD)
"The Laundromat Incident" Ray Hylton (Sprindale AR)
"Dream Big" Mark Dunning (Lincoln NE)
"I Finally Found My Calling" Willie Lowe & Joanne Rivers (McMinnville OR)

INSTRUMENTAL
"We Fly" Russell Columbia (Tarpon Springs FL) website


"Silk Road" Anna Kakhidze (Tbilisi GEORGIA)
"Shimmer" Jordan E. Spivack (Nanuet NY)
"Rio" Oleg Tumanov (New York NY) website


"Uriel's Passage" Amelia Coffe (Portland OR)
"Redeemer" Philip J. Marchello (Belvidere NJ) website


"Musician In New York" Takako Asahina (New York NY) website


"The Beauty of Nature Andreas (Thessaloniki GREECE)
"Appalacian Sunrise" Rae Denton & Paul Warren (Arlington TX)
"Acoustic On Wheels" Brian Johnston (New York NY)
"Spaghetti Western" Sal Lima & Dave DiCecco website


"Waiting" Phil Curcuru (Staten Island NY)
"Mind Over Mater" Steve Snyder (Spotswood NJ)
"Clatter" Yukihide Takiyama (Osaka JAPAN) website


"An Opus" Zachary Hendon (Gadsden AL)
"Dancing All Night" Jean Hilbert (Waverly IA) website


"Tangos" Gianluca Verrengia (Latina Italy) website


"The River" Susan Buckley Cumbie (Honea Path SC)
"It's All In Your Mind" Bill McCants (Cincinnati OH)
ROCK
"Road Trip" Robert J. McSweeney (New York NY)
"Doing It My Way" John Strati (Sydney NSW Australia)
Shipwrecked" H. Jay Carney (South Dartmouth MA) website


"Love Ate My Brain" Natalia Bortolotti & Jeffrey Scott Smith (San Francisco CA) website

"Coward" - Braham Stevens & Lu Rojas (Croydon Queensland Australia)
"Step Right Up" Denise Gerardi, Justin Gild & Shinya Miyamoto (New York NY)
"Hide Away" Robert J. McSweeney (New York NY)
"Say Goodbye" David James Stewart (Minneapolis MN)
"Two Parts Penance, One Loss of Soul" H. Jay Carney (South Dartmouth MA)
"Far From Here" Daniel Rosien (Albuquerque NM)
"Deadly Like A Shotgun" Dave Barrie (Alexandria NSW Australia)

SPECIAL CATEGORY MUSIC
"It's A Smiley Face World" Sun PK (Walden NY)
"Toot Toot, Beep Beep" Madeline L Pots (Winter Park FL)
"Nothing Rhymes With Orange" Jon Samson (Brooklyn NY)
"When It's Christmas" Antony Field & Chip Smith (Palm Desert CA)
"Change We Can Believe" Allan Blanks (Randallstown MD)
"Welcome Home" Steven Michael Johnson (Hot Springs Village AR)
"Pour Another Ounce of Rum In the Eggnog" Heather Johnson
(Calgary AB Canada)
"Stinky Feet" Lanny Sherwin (Santa Barbara CA)
"Bits and Pieces" Tom McInerney (London ON Canada)
"Little Red Robin" Jackie O'Grady (Silves Portugal) website


"Dragonfly" Johnny Bregar (Seattle WA)
"I Can't Rhyme" Lanny Sherwin (Santa Barbara CA)
"Strawberry Season" Madeline L Pots (Winter Park FL)
"Rock-N-Roll Santa Claus" Ron Hawking (Barrington IL)
"It's Not Christmas Without You" Heather Miley & Tim Roberts (Virginia Beach VA)
"Where Our Memories Should Go" Stacie Lynn Hatt (Halifax NS Canada)
"Oom Batalatta" Jack Putnam (Moreno Valley CA)
"Christmas Time: Tony Lechner (Northampton MA)
"Superwoman" Andrea Marr (Melbourne AUSTRALIA) website


"We Three Kings" Murray Wilde (Penticton BC Canada)
"Look Beyond" Jerry W. Dobson (Waxahachie TX)
CHRISTIAN/GOSPEL
"Not My Son" Steve Johnson (Hot Springs Village AR)
"Tailor of My Soul" Yvonne Cobbs-Bey (Oakland CA)
"The Splendor of His Glory" John & Rebecca Tatum & David B. Watkins (Toluca Lake CA)
"Blow, Sweet Spirit" Jim Hargrove (Indialantic FL)
"You Can Be Loved" Bianca West (Salt Lake City UT)
"Counting On You" Debbie Zepick (Ponoka AB Canada)
"Fragile" Rebekah McLeod (Dumfries VA)
"Let Go and Let God" Justin Honaman (Suwanee GA)
"Benediction for the Future" Terri Coalter (Utica MS)
"Tiny Little Ball" Martin Lasserre (Tracy CA)
"You Created Me" Susan Buckley Cumbie (Honea Path SC)
"If God Takes You To It (God Takes You Through It" Rik Mallin (Villa Park IL)
"At the Cross" Michael Robert & David Garcia (Medford OR)
"On that Day" Nancy L. Douglas & Martin Barret (Uxbridge ON Canada)
"Be My Jesus" Peter Daniel Newman (St. John's Newfoundland CANADA)
HIPHOP/R&B
"Internet Fling" Quentin Primas & Cornelius Weatherspoon (Sparta GA)
"Ambiance" Ron Elliott Jr. & Charyse L. Bailey (Detroit MI)
"Burn" Joanna Borromeo (Toronto CANADA)
LYRIC WRITING
"Be the Bigger Man" Gillian Tunmer (Perth AUSTRALIA)
"Set Them Free" Randall Effner (Jamestown MO) website


"Get A Puppy Pamella M. Bowen (Temecula CA)
"More Fish Than You" Terry Ertz (Capitola CA)
"Commuter Blues" Timothy Eldridge (Monnetier Mornex France)
"If I Say" Sam Trenwith (Hamilton NZ)
"You Can Rely On Me" Phil Berberian (Miami FL)
"Devil's Protégé" H. Jay Carney (South Dartmouth MA) website


"Reinventing Me" Gail Marten (Columbia MD) website


"Magic Box" - Carla Bean & Rubin Edwads (Bryn Athyn PA)
"You're the Best Thing" Jen D'Angora (Boston MA)
"Don't Push Me" Mary S. Campbell (Basalt CO)
"Aloha Always Means Goodbye" Kurt Serbus (Brighton MI)
"Mama Juana" Michael Thaddeus O'Brien (Brookfield CT)
"Making My Day" M.Kramer, M.Winkler, B.Padley &/ K.Danzig
(Winterswijk NETHERLANDS)



<>
Congratulations to all these great songwriters!
<>
<>
Looking for inspiration? See these
Great American Song
Success Stories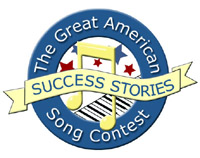 Current Contest Finalists
Finalists from 2010
Finalists from 2009
Finalists from 2008
The Great American Song Contest is sponsored by Songwriters Resource Network, a trusted resource for songwriters everywhere.