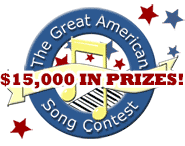 Judges & Judging

... plus $15,000 in Prizes!
There's more to the Great American Song Contest than great prizes and prestigious awards — that's only the beginning! Many songwriters enter the Great American Song Contest mostly to get their songs heard and get feedback from knowledgeable music-industry professionals.
That's because the Great American Song Contest offers this opportunity and unique guarantee: ALL participating songwriters receive written evaluations of their songs from experienced music-industry pros!
The philosophy behind the Great American Song Contest is distinctively different from the lottery-style competitions that receive 20,000 to 30,000 entries each year.
Unlike those highly competitive "big cash prize" contests, that reward only a few, the Great American Song Contest offers a clear benefit to everyone who enters. All entrants receive a detailed evaluation from the contest judges. (See List of JUDGES below.)
How Songs Are Judged
Judges base their evaluations on the universal hallmarks of songwriting excellence: Engaging lyrics, creative use of language, effective and memorable melodies, and overall songwriting technique.
Lyric Only entries are judged using the same lyrical criteria — and the Judges evaluate each lyric to see how successfully it can be adapted to music. Lyrics Only info
<>
Note: Judges focus on the quality of the song - NOT the performance or quality of the recording.
<>
Three Rounds of Judging
Level One — All entries in all categories are judged by helpful and knowledgeable music-industry professionals, each selected for his or her expertise in specific style categories (Pop, Country, Folk, etc...)
Level Two — Judges advance 100 songs (top 10 songs in each songwriting category) to Level Two. Five songs are selected from each category to receive Outstanding Achievement In Songwriting awards. The top song in each category wins a First Place Award and advances to compete for the Grand Prize.
Level Three — Grand Prize Winner of the Great American Song Contest is selected from the First Place category winners!
Here are just a few of this year's scheduled
Great American Song Contest
Judges!
| | |
| --- | --- |
| | Pat Pattison is a professor at Berklee College of Music and an expert in the art of songwriting. His "songposium" seminars are popular with songwriters in the U.S. and Canada. Several of his students have gone on to win Grammys, including John Mayer and Gillian Welch. Pat is author of three best-selling books on songwriting and his songs have been recorded by many artists, including Kathy Mattea, Emmy Lou Harris, Alison Krauss and Trisha Yearwood. |
| | |
| | Robin Frederick — Former Director of A&R for Rhino Records, Robin is a producer and recording artist who's written many songs for albums and television. She's also author of the book "Shortcuts To Hit Songwriting," a past-president of Los Angeles Women In Music and co-founder of the Indie Nation Music Conference. |
| | |
| | Pamela Phillips-Oland — One of the music industry's most successful lyricists, Pamela's songs have been recorded by many top recording artists, including Whitney Houston, Reba McEntire, Brian Adams and Selena - and featured on the HBO series "The Sopranos." She's also author of the excellent book "You Can Write Great Lyrics." |
| | |
| | Michael Anderson — Formerly a staff writer with EMI Publishing in Nashville and MCA/Universal in Los Angeles, this remarkable songwriter and recording artist has received a Dove Award nomination (for "Emmanuel" with Amy Grant and Michael W. Smith). Famous performers who have recorded his songs include John Fogerty, Juice Newton and Pam Tillis, whose #1 hit was Anderson's "Maybe It Was Memphis." |
| | |
| | Cliff Goldmacher has recorded, played on and produced thousands of recordings for major and independent publishers, record labels, up and coming songwriters and Grammy winners. He's worked with songwriting collaborators including multi-platinum selling artists Chris Barron (the Spin Doctors), Grateful Dead drummer, Mickey Hart, Lisa Loeb and Ke$ha. Cliff Goldmacher songs have been cut by major label artists in genres ranging from country, pop and jazz to classical crossover. As an educator, Cliff has taught workshops for BMI, ASCAP and Songwriter's Guild of America. His highly informative eBook "The Songwriter's Guide To Recording Professional Demos" has sold over 5,000 copies. |
| | |
| | Rand Bishop — Rand is a Grammy-nominated, BMI affiliated songwriter with over 200 cuts to his credit — by such artists as Toby Keith, Tim McGraw, David Ball, Heart, Indigo Girls, Cheap Trick, the Beach Boys and Richie Havens. He is also a music publisher, producer and author of Makin' Stuff Up, a fascinating book about his long and successful career as a songwriter. |
| | |
| | Dennis R. Sinnott — As London-based director of EMI Music Publishing, this legendary music-industry executive negotiated record deals for Elton John, Paul McCartney, Pink Floyd, Queen, Bob Dylan, and the Rolling Stones. His book "Masters Of Songwriting" is essential reading for aspiring songwriters. His new book "A Beginner's Guide: How To Make It In the Music Industry" is also available at his informative website. |
| | |
| | David Zeman — Veteran producer-songwriter David Zeman is well-known on the LA music scene. He recorded with The Rembrandts (who famously wrote and performed the TV show "Friends" theme song "I'll Be There For You.") David has also worked with The Gin Blossoms, Parliament Funkadelic and co-produced AJ Croce's CD "Transit." In addition, he's composed music promos for Entertainment Tonight, The Drew Carrey Show, That 70's Show and Fresh Prince. |
| | |
| | Giulio Carmassi — Following his selection as top composer in the Great American Song Contest™, Giulio's career has taken off in a big way. He signed with A&M Records, released a music video with Emmy Rossum for Geffen Records and produced for Decca Records (Sting/Rufus Wainwright/John Scofield) recording artist Tommy Wallach. He also played on America's Got Talent and scored movies by directors John Turturro and Alan Cumming. Then, in early 2013, Giulio was invited by Grammy Award winning recording artist Pat Metheny to join the Pat Metheny Unity Band, with Chris Potter, Ben Williams and Antonio Sanchez. |
| | |
| | |
| | Steve Cahill is the founder of Songwriters Resource Network, a leading online news & education resource for songwriters, lyricists and music composers. Steve has published interviews with some of America's foremost songwriters, including Randy Newman, Tom Waits, Billy Joel and John Prine. He's also written and produced music broadcasts for CBS News. |
| | |
| | Carla Starrett — From London to Paris to New York, Ms. Starrett has written and published arts-related features on poetry, songwriting, music, film and literature. She is currently the Executive Director of SongLyricist.com, an online resource for song lyricists. |
| | |
| | |
| | Vincent Tognetti — Award-winning ASCAP songwriter and recording artist, Vincent has produced a wide variety of music for radio, television and for corporate music libraries. He also recorded and produced his own great Indie album,"Rise Above It". |
| | |
| | H.R. Cook — As director of Weaver Of Words Music (an affiliate of Bug Music Publishing) H.R. Cook has worked with Grammy-nominated artists and songwriters, including bluegrass music legend Del McCoury and Cherry Holmes, winners in the International Bluegrass Music Awards. Originally geared to Nashville country songwriters, Weaver of Words Music Group now represents songwriters in Pop, R&B, Rock, film and television. |
| | |
| | Tony Chen first came to the attention of Great American Song Contest judges in 2011 when his original composition "Recognizing the Beloved One" won top honors in the Instrumental category. Since then he has impressively established an International reputation as an award-winning composer and music producer. Tony is now a Grammy voting member. His composition "Free China" was an official contender for "Best Original Song" of the 86th Oscars. The complete listing of his critically acclaimed recordings is available at his website, HERE |

Check out these GASC Success Stories!
For more on the Great American Song Contest, please visit:
Contest FAQ and Why This Contest Is Best
See RULES & ENTRY for details