10th Annual Great American Song Contest
GASC HONORARY FINALISTS / 2008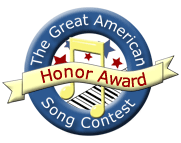 The quality of songwriting in the 10th Annual Great American Song Contest was impressive across the board, according to GASC Judges. Excellently crafted songs were discovered in all categories of the 2008 contest.
So many noteworthy songs made the task of choosing the winners very enjoyable — but also very challenging.
We are proud to list the following Finalists/Honor winners, all of whom scored near the top of their respective categories.
(The number of category Finalists is proportionate to the number of entries received in our nine different categories for 2008.)
<>
NOTE: If you are listed below as a Finalist/Honor Award winner, we invite you to display this Great American Song Honor Award banner on your website and media materials.
<>
Pop/Adult Contemporary:
"Angel In My View" Rachael Sage (New York NY)
"Davey Jones" Gordie Sampson & Michael Logan (Halifax CANADA)
"So Ridiculous" Natasha Cochran (Codette SK Canada)
"He Will Answer Me" Michael R. J. Roth (Los Alamos NM)
"Reachout" Michael McGee and Rolf Schnyder (Lock Haven PA)
"It's True" Peter Vun Chen - Ryan Harrison (La Verne CA)
"Shadowlands" Gerald Kohlbeck & Gregory Lynch (New York NY)
"I Got My Own Thing" Natalie Reiss & Stuart Stuart (Sydney AUSTRALIA)
"Tell Me Now" Debra Arlyn (Portland OR)
"Where on Earth" Pete Kendal (Gibraltar GIBRALTAR)
"Not A Sad Song" M. Franklin (Ottawa ON Canada)
"I Want To Fall" David Blair (Vancouver BC Canada)
"Never Been Better Street" Mike Hyden (Ralston NE)
"Don't Know How To Seduce You" Denys Povaliy (Kyiv UKRAINE)
"Sunnyside" Curt Mychael (Milwaukee WI)
"You'll Always Be Superman" Dan Santner (Mundelein IL)
"Spirit of Dubai" Brent St. John (Pacific Palisades CA)
"Blondes In Black"Lance Harmon (Simi Valley CA)
"Who Am I Now?"Risa Kaparo/Keithen Carter/Jon Smith (Chicago IL)
"Good For What You Got" Albert M. Hammerman (St. Louis MO)
"Seal the Deal" Peter Farrell (Glasgow UK)
"Words" Zack Weber (New York NY)
"Carnival Ride" Shay Dillon & Paul Kraushaar (Nevada City CA)
"New Girl" Rebecca Sayre & Eddie Mugavero (Nashviille TN)
"Meet Me In London" Phil Kominski (Washington DC)
"Buzz Buzz Buzz and Tweedlee Dee" Michael Sottong (Earlysville VA)
"Bye Bye" Tia Leslie (Playa Vista CA)
"Hypnotize" Tim Poolman (Melbourne AUSTRALIA)
"She's Got Nothin'" Linda M (Toronto ON Canada)
"Warm Hearths & Sleeping Cats" Pia Silvi (Holsworthy UK)
"Tonight" Vinny Piana (London UK)
"Stand Together" Joanna Butler, Melanie Donnelly & Catherine Kinsman (Halifax NS Canada)

Contemporary Acoustic/Folk:
"Old Familiar" Colin McGrath (Brooklyn NY)
"Corinne" Rachael Sage (New York NY)
"Before The Separation" Freebo & Robert Tepper 333 (LA CA)
"Gold & Scarlett Dawn" Mark Sturdevant (Concord CA)
"Everyone Else Thinks I'm Pretty" Ott Lukk (Minneapolis MN)
"Military Road" Eric Weinberg (Washington DC)
"Better Life" Michael Tiernan (Del Mar CA)
"When Vernon Moved From Tupelo" Mark Stepakoff (Wellesley MA)
"Her Suitcase" Arlette Alcock (Vancouver BC Canada)
"My Stars, Your Eyes" James Gordon (Guelph ON Canada)
"Mr. Wonderful" John F. Kueny (Pigeon Forge TN)
"You Without Me" Eddie Tadross (New York NY)
"Waiting for Someone Else" Austin Willacy (San Francisco CA)
"All Is Well" Lisa Dudley (Woodstock NY)
"Used" Kevin McGee (Lexington SC)
"Mexico" B-Joe Johansen (Svaneke DENMARK)
"Typewriter"Calvin Marty (Chicago IL)
"In the Past Tense" Matt Pless (Baltimore MD)
"Anna Mae" Gene and Gayla Mills (Richmond VA)
"Thank You For Leaving Me Behind" Julie Mintz (Los Angeles CA)
"I Am Not James Taylor" Gordon Lustig (Napa CA)
"Hey Jesus" Brother Lou (Hollywood FL)
"Song to a Sleeping Child" Peter Croton (Basel Switzerland)
"The Road to Love" Wes Casto (Marietta OH)
"Nothing in the Sky" Lou Dominguez (Brother Lou) (Hollywood CA)
"Take Us Down" David Llewellyn (Nashville TN)
"About the War" Mare Wakefield (Nashville TN)
"Better Angels" John C. Dobat (Columbus MI)
"Snow flakes" Lifeinbible (Victoria Wang) (Sharon MA)
"In God We Trust" Marc Bridge (Westborough MA)
"This Old Town " Sal Belloise (Clearwater FL)
"A Nefarious Affair" Doug Ward (Mississauga ON Canada)
"Because I Dreamed You" Gail Vareilles & Tommy Faragher (New York NY)
"True North" Kim Richardson, William Lee Ellis & Mary Unobsky (Memphis TN)
Special Music Category:
"My Malamute" Donna Lisa (Westfielf NJ)
"The Polar Bear Giraffe" Marc Bridge (Westborough MA)
"Ghoul On A Mule" Frank B. Fulton Jr. (Severna Park MD)
"You And Me By The Christmas Tree" Krisanthi Pappas (Foxboro MA)
"Where Will We Wake Up In The Morning?" Ville Hildén & Nicol Walsh (Llandudno UK)
"I'll Always Follow You" Alan Gershwin, Tom Quinn & Thaddeus Rex (Chicago IL)
"God Luv Ya, G. Dub'ya" +Spanx T. Urquhart (Hollywood FL)
"Grandpa's Candy Cane" John Teehee (Calhoun GA)
"Agnes" Teena Gowdy (Kelowna BC Canada)
"Elsie" Patti Ecker (Chicago IL)
"Ethniya Twila"Amel Mathlouthi (Paris FRANCE)
"Fireflies In A Jar" Frank Dieter (Fredericksburg VA)
"I'll Always Follow You" Alan Gershwin, Tom Quinn, & Thaddeus Rex (Chicago IL)
"Oo Shayla" Susan Kay Wyatt & John Henry Kreitler (Valley Village CA)
"Until Tomorrow" Ville Hildén & Nicol Walsh (Llandudno UK)
"I Know It When I See It" Dennis Lonergan & Sean Talisman (New York NY)
"Sweet dreamer Solveig" Natalia Pikoul, Marina Pikoul (São João da Madeira Portugal)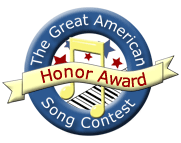 Christian/Gospel:
"Rescued" Stephen Hinkle (Gurnee IL)
"By His Wounds I Am Healed" Rebecca McKinley (La Mirada CA)
"Higher" Scott Hillje (Elk Grove CA)
"Never Be Alone" Josh Caldwell (Round Rock TX)
"God Never Promised" Laura Hall (North Hollywood CA)
"Let Me Rest In Your Presence" Michael Cavaliere (Mount Airy MD)
"Purify Me" Michael Robert (Medford OR)
"Loving Hands" Art Chase (N. Clarendon VT)
"Breath of My Soul" Nathan Brumley (Cane Ridge TN)
"Mirrors" Juliet Hall & Gwendolyn Taylor (Smyrna GA)
"Stomp That Devil" Jerome "Chane" Allan Burke (Drayton SC)
"Your Are Everything" Hilary Leigh Graves (York PA)
"Here In Me" Paul Hilts (Cleveland OH)
"Quiet My Soul, Sweet Jesus" Rose Ann Grasso (Utica NY)
"Alleluia" Debbie L. Rice (Lake Jackson TX)
"Show Me the Way" Marie Lajic (Vienna AUSTRIA)
"Gonna Go to Heaven" Rob Guthrie (Tuscaloosa AL)
"Love Song (The Atheist Song)" Alyce Metallo (Washington DC)
"I Come" Christopher Page (Fort Washington MD)
"Father You" Michael K. Gayles (Dallas TX)
"Standing In the Need of Prayer" Steffanie Grogan (Greenwood Village CO)
"Jesus Plays the Basketball" Maxwell Rudd & Anthony Laido (Oakland NJ)
Instrumental:
"Schwedagon" Mark Van Overmeire (Brugge Belgium)
"An Old Bus In Hawaii" Giulio Carmassi (Los Angeles CA)
"City of Ba" Sheryl Dee Mebane (Oakland CA)
"Dancing Gypsy" Charles Lazarus (Wayzata MN)
"Chaco Moon Meditation" Randy Granger (Las Cruces NM)
"A Lonely Anniversary" Chan Nga Yung (Rebecca Pinto) (Hong Kong)
"Vol de nuit" France Sevillano (Montreal QC Canada)
"The Spooky Surfer" Dan Peters (Chicago IL)
"Curtain Call" Kayle Clements (Rockford MI)
"Saturation Determination" Michael Barry-Rec (Lexington VA)
"Prayer under the Stars" Andreas Smagadis (Thessaloniki GREECE)
"Goodbye Sovana" Joe Dietz (Oerlenbach GERMANY)
"Song For Ros" Marc Lachlan Ongley (Teddington UK)
"Feeling Friday" Richard Eberlen (Waxahachie TX)
"Inspired" Patrick Thomas (Petaluma CA)
"Cruising the Coastline" Tommy S. (Henderson NV)
"Galactic Backward Movement" Gregg Rossetti (Whitehouse Station NJ)
"After Noon Dreams" Stefan Kristinkov (Brooklyn NY)
"Funkabilly" Nathan Deppeler (Melbourne AUSTRALIA)
"The Cat's Meow" Jordan E. Spivack (Nanuet NY)
"Heart" Kenny Weydener (Massapequa NY)
"Grand Reconciliation Overature" James Corrao (Brookfield WI)
"Rif-Raf" David Laborier (Roeser Luxembourg )
"Evade" Giulio Carmassi (Los Angeles CA)
"Gondola Ride" Barb Murrin (Lacombe AB Canada)
"Dr. Ellis" Adrian West (Emeryville CA)
"Meditative Rose" Johannes Luebbers (Perth AUSTRALIA)
"AngelKIDS" Juanita Faas (Medicine Hat AB Canada)
R&B/HipHop:
"Action News Team Assemble!" Chris Curry (Elizabeth City NC)
"Get Up Soldier" Ezekiel Cruz (Phoenix AZ)
"Stop the War" Lennie Moreno (Montreal QC Canada)
"The Show" S.K. (Newport News VA)
"Grand Finale" Ezekiel Cruz (Phoenix AZ)
"Religion As One" Lennie Moreno & Lady Ginseng (Montreal QC Canada)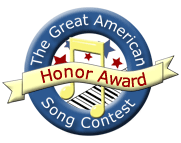 Rock /Alt:

"The Boy with the Spinning Head" James Gibson (Princeton NJ)
"All the Salt in the Sea" The States (Brooklyn NY)
"This is not an Emergency" Terry Quinlan Jr. (Co Dublin IRELAND)
"Haven't I Seen Enough" Brett Perkins (Malmo SWEDEN)
"Build a New Town" David Tokaji (Pasadena CA)
"Laughing At Myself " Zac McIntyre (Westford MA)
"I Didn't Have Love" Charles R. Martin (Gainesville FL)
"Rockets" Andy Lange (North Hollywood CA)
"5:09" Barbara Baumann & Robert Laidlaw (Mississauga ON Canada)
"Dirty Girl" Robert Hug (Olive Branch MS)
"Conscious Mess" Cat Dail (New York NY)
"Justine" Cameron Dobb (Vancouver BC Canada)
"Love Sux" Daniel James Maguire (MOG) (Canberra AUSTRALIA)

Country:
"When the Fish'll Bite" Clayte Huber (Arlington WA)
"She's the Song" Larry Potts (Petaloma CA)
"Hitchin' On the Highway of Life" Andy Cowan (Santa Monica CA)
"Salvation Saloon" Karen Collins (Takoma Park MD)
"Cleo's Gator" Pop Wagner (St. Paul MN)
"As If" Keith Hill (Rutherfordton NC)
"That Crazy Song" Kurt Orning (Hayfield MN)
"I'm Done!" John Allen Latta (Tulsa OK)
"The King of Nashville" Ron Christopher (Hermosa Beach CA)
"Tell Me She Cries" Ken MacDonald (Mar ON Canada)
"Two-Step Process" Kurt Orning (Hayfield MN)
"Candle On A Cupcake" James & David Kennedy (Brookpark OH)
"Things That Come From Love" Lynn Case/Russ Case (Choiceland SK Canada)
"It Matters To Me" Wynn Teasley & Larry Book (Pensacola FL)
"Little Black Book" John J Cozolino (Beacon NY)
"Already Paid My Dues" Daniel R. Belt (Augusta KS)
"I'll Be There" Gaylon Embrey (Quitman TX)
"Man Behind the Glass" Jeff Maddox (Pearl MS)
"They Crumble" Angela Siracusa/Ken Kahler/Dean Malton (Woodbridge ON Canada)
"My Back Pocket" Heather Ballentine, Lary Bartley & Frank Primorac (Downey CA)
"Will You Be My Valentine" Doris E. Hays (Topeka IL)
"Hearing Things" Vincent Robert Trocchia (Avdou GREECE)
"The Talent Requires" Chuck Allen Floyd/Carson Chamberlain (Oklahoma City OK)
"Someday" Tony Dowdy, Michelle Mangione & Brian Reeves (Van Nuys CA)

Lyric Writing:
"Bride's On the Run" Mary Shannon Campbell (Scotsdale AZ)
"How'm I S'posed to Like Christmastime?" Nina Beck (Redondo Beach CA)
"Love In the Drought" Esther Van Schaick (Five Dock AUSTRALIA)
"I Hear You're Beautiful This Time of Year" Scott Curtis (Edmonton AB Canada)
"Street Performer" Michael Haden Kefauver (Hanover VA)
"Ms Jade" Michael Kelly (Nashville TN)
"Lorelei" Ann Juenger (Glenmore PA)
"The Day I Woke Up" Randy Burke (Ohatchee AL)
"Lonesome Guy" Briony Williams (Linlithgo UK)
"Mr. Aquamarine" Susan Muranty (Sydney AUSTRALIA)
"The Last Line" Mike Parrish (LaGrange GA)
"Living In Love" Thomas Jedlik (Cernosice CZECH REPUBLIC)
"Say Those Three Words" Larry Johnson (Suwanee GA)
"The Devil's Carousel" Donald L. Swafford (Bovina TX)
"Numb the Pain" Miller, Elliott & DePalma (Clarksville TN)
"La Leyenda Negra" Nicol Walsh (Llandudno UK)
"Death To All Who Oppose Me" Alan Pineda (Las Vegas NV)
"Why Little Girls Make Their Daughters Cry" David W. Regan (McLean VA)
<>
Congratulations to all these great songwriters!
<>
<>
MORE OPPORTUNITIES
for Great American Song winners!
<>
Visit the Great American Song
Hall Of Fame!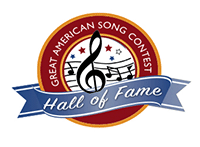 The Great American Song Contest is sponsored by Songwriters Resource Network, a trusted resource for songwriters everywhere.
Current Contest Finalists
Finalists from 2010
Finalists from 2009
Finalists from 2008
The Great American Song Contest is sponsored by Songwriters Resource Network, a trusted resource for songwriters everywhere.